Most blog quizzes have no solid scientific basis; they are just for fun. This one, though, is an exception. As you can see, it is completely accurate.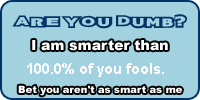 Am-I-Dumb.com - Are you dumb?


Credit where credit is due: Nabbed this blog quiz from Starlight over at Here Comes a Storm in the Form of a Girl.